Finding a trustworthy vendor for software development is a big challenge. How can you find a company with the qualities and experience to tackle your project? How can you make sure that the organization will do high-quality work and meet your deadlines? Online B2B directories aim to soothe these pain points and connect any business with appropriate service providers.
Basically, directory platforms work as global marketplaces. They have service suppliers who list their company, the services they offer and area of expertise. And on the other side, they have clients who look for vendors to meet their business challenges.
Company listing platforms are beneficial for IT service vendors, as well as clients, looking for a development company. Most popular web services have high traffic and drive leads for web service providers. They help potential customers find the best software development providers based on factors such as expertise, location, hourly rate and more.
Once the company gets listed in the directory, its ranking will be calculated based on various factors: clients' objective feedback, rating, industry recognition etc. Let's have a closer look at the main factors you should consider and potential pitfalls you should be aware of.
1. Sponsorship. It's no secret that B2B reviewing sites like Clutch make money on listings. So if you want to get your company shortlisted, you need to pay for sponsorship. The top positions in the directories are usually taken up with sponsors. So you need to invest some part of your marketing budget to gain exposure and get greater profile visibility.
Though directories give general recommendations on how to remain on the list, the ranking algorithms are usually not public and hard to figure out. For example, few know that only new sponsors are shown in top positions. So be prepared to pay regularly or else your position may considerably drop down after you stop paying.
Sponsorship offers some benefits, but before you pay for it, consider a few things:
Check the price and make sure the sponsorship price fits your marketing budget and you can spare a certain sum each month for being a sponsor
Weigh up the chances of getting to the top in a particular listing category
Analyze competition in your location
Calculate potential traffic
2. Number of Reviews. Client feedback is among the key factors that influence the decision to make a deal. According to this Statista study, the vast majority (78%) of people consider reviews a credible source for recommendations. Take care to collect a significant number of testimonials verified by clients. At least ten reviews will likely improve your ranking.
The recency of reviews is also crucial. Directories recommend adding at least one recommendation every few weeks to stay up to date and help your profile stay high in their lists. You can also benefit from reviews by putting your clients' feedback on your website. People are tired of fake reviews so a reference to a commonly known review platform will enhance the credibility of your organization.
3. Rating. Another aspect that influences your company's public image is the number of stars you get from client reviews. Having over 4.7 rating tends to reflect a good reputation of the company. Try to accumulate positive reviews from the clients to get a high average rating and strengthen your reputation.

4. Industry Focus. Sometimes software agencies provide dozens of different services and to a wide range of industries. Clutch and other directories though, are usually optimized to show the leading vendors for specific niches. Getting highly rated on their generic, "software development" lists is difficult because of high competition and not likely to be productive. Instead, choose one or two service lines or industries where you have wider experience and more interesting / higher profile case studies. Stay focussed on these niches and emphasize your expertise in them to increase your rank on lists about the best vendors in that niche. This is much more likely to generate high-quality leads than having a low ranking in a wide range of services and industries.
5. Offices. Adding multiple offices works well for SEO and helps you rank on multiple pages. Bear in mind some directories like Clutch determine the head office depending on the majority of staff working in the location. So for example, if most of the team is in LA and another, smaller part is located in NY, you will be labeled as a Los Angeles software development company in the listing.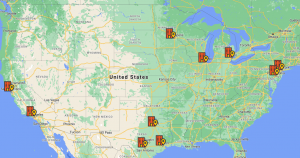 6. Profile. A robust profile is crucial for your ranking. From the SEO perspective, it's essential to make a unique description of your company for each directory. Be specific while writing your description. Instead of writing an extended outline, keep it short and sweet: focus on services your organization provides and relevant skills of your specialists. Try to convince potential contractors of your company's ability to be helpful.
To keep visitor attention, keep your description above the fold. A great life hack is to make one small change in your company's outline at least once a week, so it looks like your profile is updated continuously. Don't be afraid to experiment with your profile and adjust it for your marketing campaigns.
7. Portfolio. Usually, you can add as many portfolio items as you like to your organization profile. The optimum number to visualize your work will be between 6 and 12. Choose project screenshots that highlight key project features and add a relevant outline. One more thing is to keep projects in your portfolio to reflect your focus areas. For example, if you highlight healthcare and fintech industries in your focus, add case studies to demonstrate your proficiency in these areas.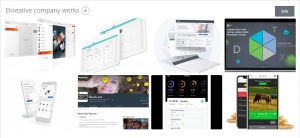 8. Quick response. You should realize that competition on the most popular reviewing platforms is very stiff. And potential clients won't wait long for a response from your sales manager. Typically, buyers send requests for proposals to a few companies. A fast reply will help you to get a client and give you the edge over your competitors.
Listing yourself in marketing agency directories is a crucial step in creating a lead generation system. If you made up your mind to get listed on B2B IT directory, here is what you need to do:
Chose the platforms that best fit your company's needs and industry focus
Apply to get listed there and create unique descriptions for each directory
Examine the platform's criteria to figure out how to be ranked highly
As soon as you get listed, ask your clients for reviews
Keep your profile alluring and up-to-date